I was at teched 2011 and almost every presenter at the conference did a quick zoom in on a section of code or area of their screen.   I thought it was on of the simplest and best things I had seen in a while.  I know that Win7 has a zoom feature, but this was different.   An example I give is that during  a presentation the presenter would just zoom into visual studio and write on the screen.
I did a little looking and could not find a tool until a co-worker pointed me to the sys-internals zoom it.  Head on over to technet and download this great little tool
http://technet.microsoft.com/en-us/sysinternals/bb897434
So far I've already used it in a presentation.
Ctrl + 1 = Zoom
Ctrl + 2 = Draw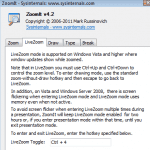 Ctrl + 3 = Count down  (presents a count down timer on the screen)