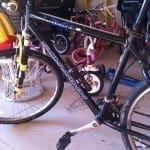 I have started biking into work again.  It has been enjoyable and an interesting adventure.   This time around I'm using my commuter, a converted mountain bike (Schwinn S9five6 – Purchased in 1995).    This is one of my favorite bikes, I've had a great amount of fun over the years with this bike.   In the last 5 years it has sat in my garage gathering dust.
When I started commuting this year I was using my Fuji road bike.  I love that bike, it is fast, light and nimble.  However, using it for commuting became difficult.   The route I take to work takes me across 2 major roads.  One of those roads does not have bike path.   To accommodate I typically ride on the sidewalk.  The road bike does not handle the sidewalk that well.  Too many curbs and opportunities to pop a tire.
To make commuting easier I decided to use the Schwinn.  I have put Bontrager slicks on it and added some safety lights and flashers.   Other than the items above and adding a Roc Shock back in 1998 it is stock.
Over the last week it has been fun to ride to work.   Not having to worry about what I ride over; curbs, cracks and gravel.    Though I only ride 6.8 miles into work, it is about 30 minutes across a few busy roads and a few bike paths.
I typically don't ride on a sidewalk, especially on the road bike but it is much safer earlier in the morning.   People don't often look for bikers when they are driving into work.
If you have not tried to commute into work via bike, I would suggest trying it a few times.