I updated all devices at our house today. Ipads, iPhone 4, and iPhone 4s. Everyone now has ios 5 and all devices are backed up and have iCloud working. If you have not ever heard of all the "i" things can you imagine what I just said. Before the iPhone people did not even know what an app was… now we talk in clouds, sync, and siri.
If you are interested in cutting the cord and syncing with wifi here is a quick tutorial. We have many iOS devices in our house. I sync a few with my computer and a few with my wife's. Our media server (windows media server) holds almost all the songs and videos. We just map a drive (that is a topic for another day). However the use of wifi sync is great. I have consolidated to the media server to be the itunes primary for a few devices. This allows for that machine to always run itunes (in the startup folder) and the devices to just connect to it via wireless.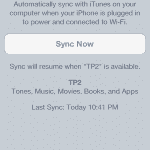 To set this up you first have to enable wi-fi sync. Plug in your device and select the summary tab of your iOS device. Add a check box to the options area to "sync this iPad over Wi-Fi".  (figure 1)
Once you have done this the basics are complete. Your next step is to connect your iphone or iPad to a power outlet and watch it sync over wifi. You need the iOS devices to be on the same wifi network as the computer that has iTunes. NOTE: also the computer should have iTunes already running before the sync will happen.
I'm not sure of why the device needs to be plugged in, but that is needed. Here is the screen from your iOS device (figure 2)