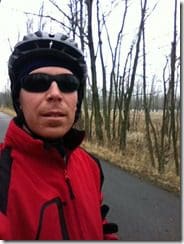 How often do you get to go for a ride on Dec 30th.  I took off from walker and hit the Millennium park trails.  I wanted to see the new bridge across Maynard, that connects the millennium area to the Kent trails.
I had a chance to use my new gloves and coat.  Both were purchased at Dunhams sports.  I'll have to do a quick review of these when I have some time.  I decided against spending a lot of money on a cycling jacket at this point because I did not want to throw out the cash.  Instead I purchased a $28 waterproof jacket.   I needed all of that riding.
It started out nice and dry for about 10 min.  Then after that it started to sprinkle then the rain came down.   I was on my Schwinn commuter and it was just a great ride.   I was having too much fun being out in the rain and biking. 
Grand rapids offers so much for biking.  The Meijer Trails were so great.   I took a few pictures of myself (in the rain) and a few little lakes along the way.   Not too many people out, so I felt like I had the place to myself.
Here is a quick map of the Fred Meijer Trails (map)  and more info:  I plan on doing a few more discovery blog posts on these trails.
Miles: 20

Temp: 33 F

Bike: Schwinn Commuter
PHOTOS: