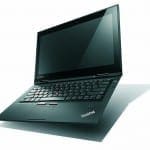 I am a ThinkPad junkie (proof 1, 2). I currently have 3 active thinkpads in our home. My primary laptop T410, My wife's T410, and our home server (everything PC) t61p. Today I just purchased another thinkpad to add to the collection. I got a Thinkpad X1 Carbon Touch.
This is the first touch laptop I have purchased. I have had my eye on the x1 since it initially came out. The original version looked overpriced to me for a ultrabook. But, recently with the addition of 10point touch this device has become the machine that I want to develop on. It has 1600×900 resolution, that is much better than the standard 1366×768 but not quite full HD. I'm ok with that for the main reason it is greater than what I have now. I've ranted about resolution before but in this case, I'm ok with the mid resolution because of the Touch option. If you have not had the chance to use touch on a laptop you are missing out. I thought the overall idea of touch was rediculus until I tried it with a surface pro. I found myself using touch as the 3rd option. I'm a trackpoint user and with a combination of keyboard, trackpoint, and touch this device will be amazing.
I've been on the fence about a few other devices (Asus, Samsung, and a few other ultrabooks). I just could not get over missing the track point. Now that the x1 is at an affordable / comparable price It was time.
I also helped that at a recent conference I saw a few Microsoft speakers using the X1 (Scott Hanselman and Damian Edwards) I would have got the machine anyways but it is always good to know that top notch developers are using the same device.
We will have to do a full review once it arrives.
PHOTO Above is from – Intel_de