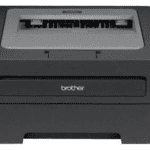 I hate printers. They have caused me so much headache over the years. Printers bother me from the standpoint that they don't work when you need them, and most likely they are near or out of ink when they do work.
In the past few years, I have had the theory of purchasing the lower to mid level printer and ink at the same time. When I purchase the printer I also get ink (normally at a discount). Then when the ink and the replacement ink run out, I purchase another printer, Sell the one that is out of ink on craigslist and start the process over.
I currently have an HP Photosmart C4500 color printer / scanner / wireless printer. It was very inexpensive and works well when it is connected to the network. More often then not, we have to re-start it to have it on the network. Since I have a few kids we tend to print a lot, and the printer is not the most cost effective.
Recently I purchased a Brother HL-2240 laser printer. (Brother Site) It allows me to print fast and inexpensive. Also saves me from always having the kids print in color. I purchased it from a big-box office store online and had it shipped. It was refurbished and cost about $40 bucks with a coupon.
The beauty of this printer is that it is fast and will print a long time on a toner cartridge. The model I purchased was not network connected. That was not an issue since I had a Dlink wireless print server sitting around. Using the print serve also solved the connectivity issue with the HP printer. I have both setup on the DLink print server.
The new setup has made everyone happy. I named the printers easy to remember (PRINTER) and (COLOR PRINTER). If someone needs to print the laser printer is default and they have the option of color if needed.