The Crypto world has changed a lot in the last few years. One new and upcoming topic is NFT (Non-Fungible Tokens). In the last few weeks, we have seen a significant increase in the volume of NFT purchases.  If you follow cryptocurrency you have probably heard about NFT's in the news.  I'd like to take a few minutes to share some information on NFT's as well as my experience purchasing a few Tokens as well as items with NFT.
What is an NFT
NFT's are based on a crypto backend. The best definition I have seen was from an article in  "The Hustle" website – https://thehustle.co/why-nfts-are-suddenly-selling-for-millions-of-dollars/.
In a nutshell "Non-fungible" means that an item is unique and can't be replaced with something else.  For example, a 5 dollar bill is fungible (what a fun word), Trade one $5 bill with another and you have the exact same thing.   A piece of artwork however is non-fungible it is unique.  If you traded your work of art for another you would get something completely different.
Why would I want an NFT?
NFT's are all about ownership.  An NFT can be certified on a blockchain to prove ownership.  Currently, the market is flooded with collectibles, art, and other media. Recently the artist Beeple sold his NFT for 69 Million.   In addition to collectibles games and apps can also utilize NFT's.
Issues with NFT
As with any technology, there are issues.  Currently, with some NFT's on the Etherum blockchain, there is an issue of the "Gas fee" gwei.  Gas is used by miners to process transactions.  This is a cost for using Etherum to create/generate the NFT this fee is called "gas".   I won't go into all the details, but this has caused a lot of controversy in the crypto community around using Etherum based NFT's.     There are alternatives to Etherum for NFT's one that is used with NBA top shots is the Flow blockchain.
In this article, I'll share my experience using a NON-Etherum based blockchain called WAX to purchase NFT's.
Purchasing an NFT
There are many ways to purchase NFT's.  You could spend 69 Million at Christie's auction house or you could purchase an NBA TopShot .  There are many articles and websites that will walk you through the process.  I'll share my experience with investing in NFT's.
My NFT Experience
I originally wanted to create my own NFT's to experiment with.  I abandoned this idea after realizing it would take too long.  I decided that it made sense to start by purchasing a few NFT items so I could understand the process.
Here is my journey purchasing a few NFT's.   I now own 2 NFT items and a few WAX coins. WAX is a form of DeFi
How will I purchase an NFT?
I follow the BadCrypto podcast and the team has built their own NFT items to purchase using the WAX blockchain.   WAX does not use Etherum and has a lower cost to create and verify the NFT items.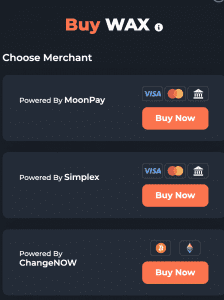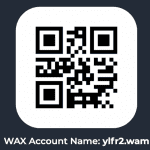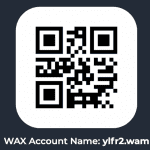 Before I purchased any items I had to purchase a few WAX tokens.    I went over to wax.io and set up a wallet.   Feel free to send me some wax if you like (address).   I used a credit card (debit card) to fund my wallet using Simplex.   The process was straightforward and did not take very long.   The process involves verifying via email and payment via your card.    The purchase of wax allowed me to have roughly 400 Wax Tokens.  The price of WAX fluctuates like all other cryptos.   When I purchased it was roughly $0.20
What Will I purchase?
Now that I had WAX tokens I needed to find something to purchase.  I decided to use the wax.io site to browse options.  I selected a dapp from Atari as my first purchase.
Who from the '80s does not like Atari.  I went to the atari site https://atarinft.io/ to see what they had to offer.  The selection was interesting and involved a lot of box collections.  I ended up purchasing an Atari Breakout box.  Breakout was one of my favorite games.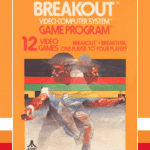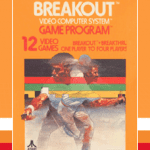 Here is a record of my purchase on the blockchain: https://wax.bloks.io/transaction/32532b745f2c3123f4008942e1d818bf430f7e2657c063d5dd4d40f24bfc3d4c
It cost me 50 WAX.  Roughly $11 at the time.   I am pretty sure I will never make any money on this purchase, but it was fun.  I now have my own collectible Atari Breakout NFT.  You can see the information below.  The Immutable Attributes and all the information regarding the proof of sale.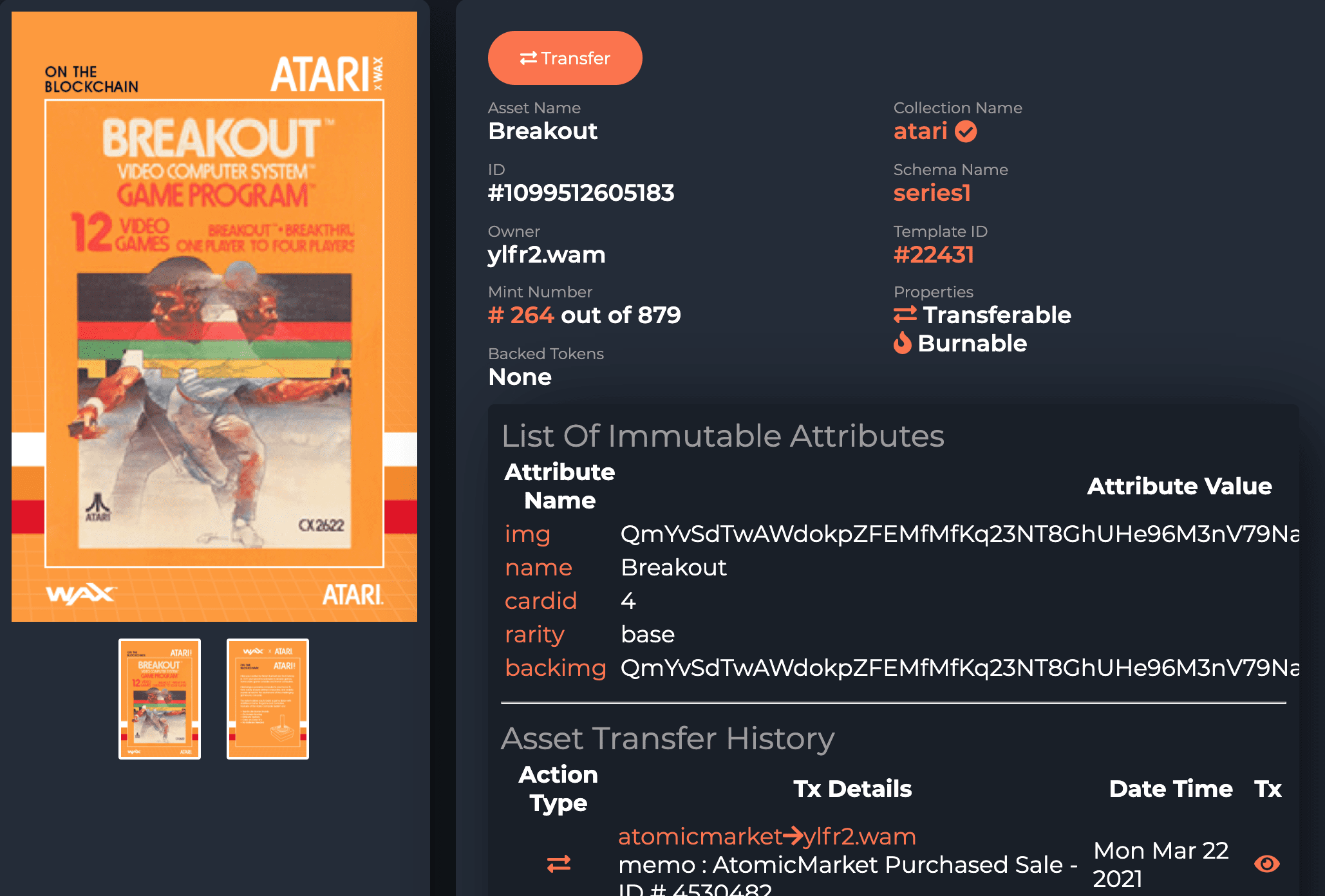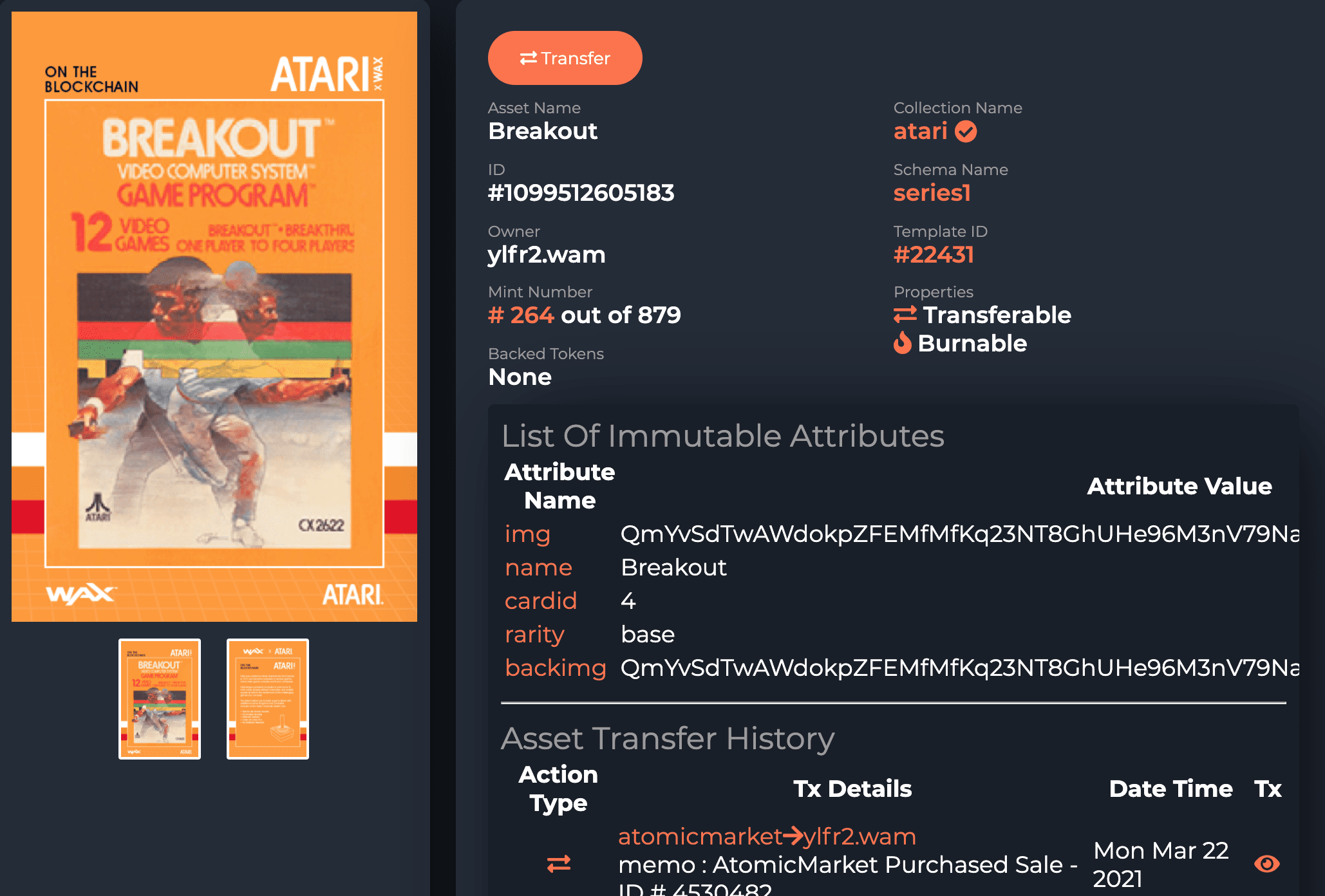 My Second Purchase
I had so much fun with my first purchase aI decided to see what else I could buy.  I decided on the blockchain heroes. https://bcheroes.com/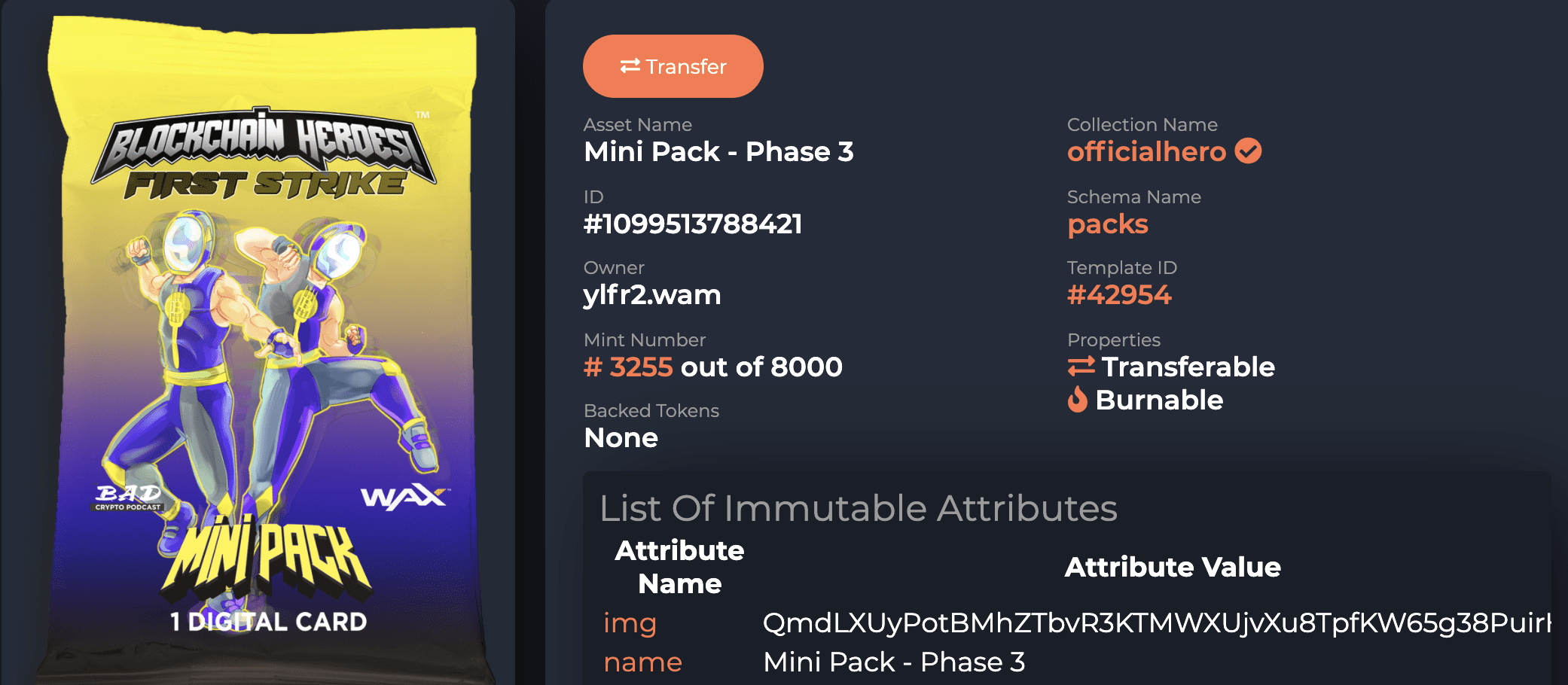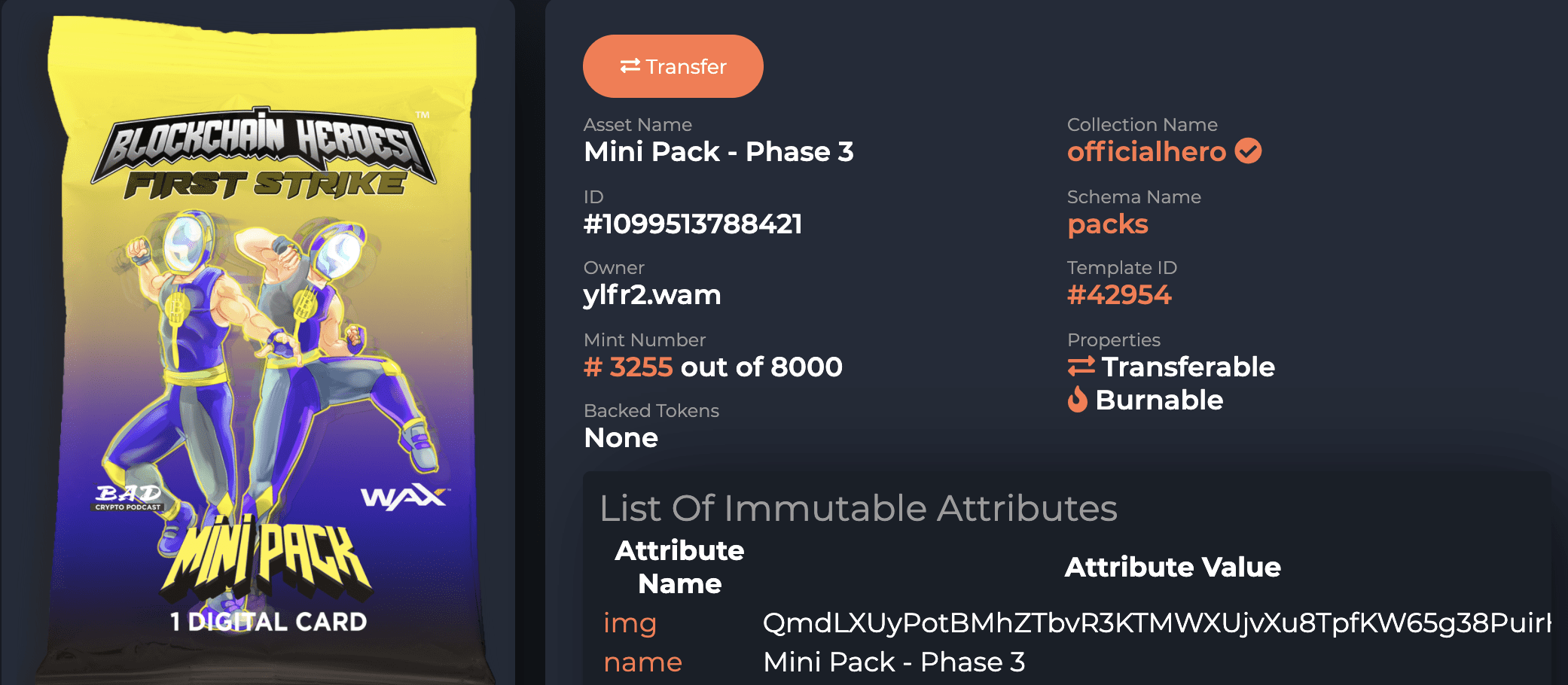 This was similar to the Atari purchase.  However, it was only $4.00.
So Now What – I own a few NFT
The purchase was not too difficult and I now have two of these items.  Now what?  Overall they are just digital images that I have proof of purchase.  Basically, there is a documented proof that these digital items are mine.  I can keep these assets or sell them.   Overall I'm not that impressed with the items I purchased but I was able to learn something about the process.   If this was something that I really wanted I suppose it is a comforting fact that I can prove I own it and then protect it from others.
As I watch the news and the industry I can see that there are people who are using NFT's as a way to make money on the early entry and ride the excitement wave.  They are purchasing any 1st edition product in hopes of holding it and selling for more $$.    I also see the art and collectible industry working to use this new platform to help the process of expanding their options for selling and providing their products.  Overall it seems like this may be something that falls in the middle.
Look everybody I created an NFT
Before I could finish writing and publishing this blog, I actually minted a few of my own NFT items.  I also put these put for sale on the market.  Maybe one of my readers would want to purchase my first edition NFT… In 20 years it could be worth a lot of money (ha ha..)
Here is a link to my NFT. https://wax.atomichub.io/explorer/asset/1099520615976
It is a wonderful digital picture of Jeremiah – chapter 29 vs 11.


Because an NFT is a digital work of art and I am not an artist I took something I loved and made a unique image.  My NFT collection is based on 10 top bible quotes and I added the logo of my business (mainly because it was the first handy image I had available).

I'll save the process for creating NFT tokens for another post but it was pretty straightforward and easy using a few tools.
If you want to purchase my NFT it's for sale on the market for 10 WAX which is valued at $2.62 at the moment.
NFT FUN
As I wrap up this blog post I can tell you that it has been fun.  I am pretty sure I have not made any money or will ever make any money on NFT's.   It is possible that I may have a good investment in WAX (It has gone up in value) but even that may just be a bubble.   The end result is I had fun and learned a lot.    If you have questions or want to share your experience reach out and send me a note.   What are your thoughts on NFT?