So far the iPad has been a great hit in our home. From remote access, browsing the web, email and movies. I have only good things to say about this device.
Inside the comfort of my own home I know my connection is safe. However, when I venture out to public wifi or a coffee shop, I cannot be a comfortable with the network security. When using my laptop at a public wifi I normally use SSH or a VPN to secure my connection. I will show you a quick how-to on using VPN on you iPad to get a secure connection when using a public hotspot.
To use a VPN client on your iPad you will need a VPN server somewhere. I use DDWRT as a vpn server at my home. It has a built-in PPTP VPN server. The iPad supports (PPTP, IPSec, and L2TP).
Thankfully the iPad has a built in VPN client. To access the settings for this you will need to go into settings | general | network.
Under your network settings you can find vpn connections. In this section you can turn on vpn, view the status of a connection, add a connection or edit a connection. We will be adding a connection:

Next you select "Add Vpn Connection". Select PPTP, L2TP, or IPSec. For each type of vpn you have different options:
PPTP: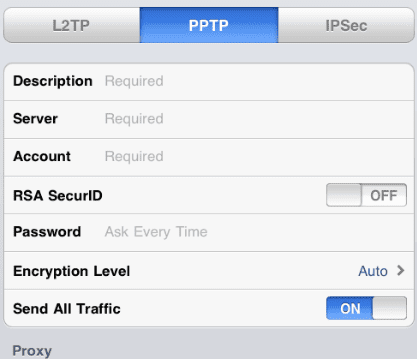 L2TP: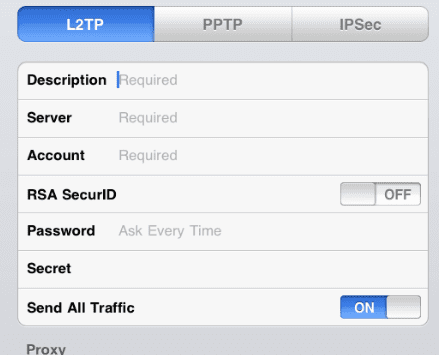 IPsec (cisco):

Once you have setup your vpn connection you only need to go back to the setting page (network / vpn) to enable the vpn connection. You then can view the status and be connected or browsing through your VPN tunnel. In the image below I can connected to my home VPN and have an IP of 192.168.2.200.
Happy secure browsing. Remember to still take precautions when in a public location and using any type of secure sites.
If you are in need of a personal VPN provider, I recommend wifi-vpn.com.