The keynote speech by Steve Jobs was great. I personally like the moment where the wifi was not working. Beyond that little issue the overall presentation was great. Especially the launch of the new iPhone. I can't wait to get my hands on the new device. I don't think of myself as a gadget geek, however I use the iPhone as a business tool. From email, cellphone, remote access, and notes I find that the little device is priceless. My only complaint with my current iPhone (3g) is the speed. It seems to have got slower over time.
So come the end of June I am guessing I will have a new phone, maybe even one for my wife. I've been with ATT since '99, when it was ATTwireless.
There has been a lot of talk in the news about AT&T allowing people still in contract till the end of the year getting an early upgrade deal. To check if this is available to you, you only need to go online and check availability or just call *639#. ATT will text you back if the account can upgrade. As you can see, I am ready to be the proud owner of a new iPhone if I desire.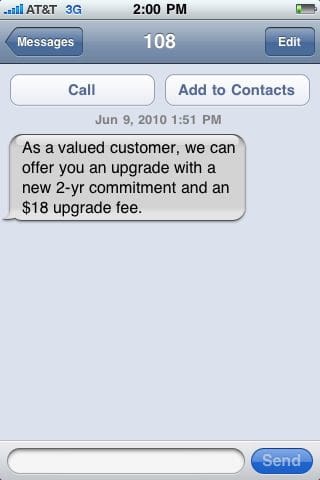 I hope everyone else has the chance to upgrade.