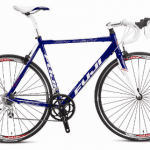 This past summer I got a new road bike.  I chose a Fuji because of the price and the great ride.  I test rode quite a few bikes and this one just felt right.    After riding for a while and talking with many people I realized that there are not too many bike builders.  It sounds like many bikes are manufactured in Asia and then assembled in the US.
Giant seems to be one of the largest manufactures that a lot of companies use.  Fuji looks like it uses a manufacturer called Ideal.
Here is a great document that shows who manufacturers bikes for each vendor: http://www.bicycleretailer.com/downloads/US%20factory%20chart%2010-08LoRes.pdf
Another site with some background info http://wannabteam.co.za/?page_id=1422
I have recently been looking to replace my old Schwinn and purchase something new.  Any suggestions?