UPDATE – Since writing this pfsense has added a package install of SARG.   I recommend an updated tutorial of this post –  SARG and Pfsense V2.
Here is a tutorial on how to setup SARG (http://sarg.sourceforge.net/) – Squid Analysis Report Generator on Pfsense.   If you don't know what any of those words meant then here are some references.
SQUID – (www.squid-cache.org): Squid is a web proxy that can filter traffic from your network to the internet.
Pfsense – (www.pfsense.org) : PFsense is a free opensource firewall / router for home or office
I have recently setup a Pfsense router / firewall to replace my old "blue plastic" router that was purchased at the big box location.   This solution has been working great.  It has been in place for over a week and I have been adding configuration settings to it.  One of the great tools included in this router is the ability to add packages.  In particular one of the packages is SQUID.  A proxy tool that can help monitor web traffic and also speed up performance.
I have used SQUID in the past and know it's benefits and also issues.  One great benefit is reports on web usage and traffic.   The pfsense implementation also has a package for reporting on squid called lightsquid.  Lightsquid is ok, but not my favorite tool for displaying information.    I would rather use SARG.   So I began to do a few searches and found some outdated information and ways to configure SARG.  From these searches (NOTE: Most of the info below I was able to find from other forum posts)
Install SARG on pfsense
Install the Squid package and have squid running on your firewall
Validate that SQUID is logging (Services | Proxy Server |) – Enable Logging (check) and keep the log store directory "/var/squid/log"
SSH into your firewall
Open a shell
(optional) I added nano as a text editor so I ran this command.

  pkg_add -r ftp://ftp.freebsd.org/pub/FreeBSD/ports/i386/packages-8-stable/Latest/nano.tbz

Run the package command to add SARG (this retrieves the latest stable package for freebsd stable branch)

pkg_add -r ftp://ftp.freebsd.org/pub/FreeBSD/ports/i386/packages-8-stable/Latest/sarg.tbz

Now to configure SARG – You can start with the default config

 cd /usr/local/etc/sarg/     
cp sarg.conf.default sarg.conf      
nano sarg.conf

I actually created my sample from some other settings.  You can just copy and paste this into sarg.conf if you like

#Locatoin of log files - from pfsense settings  
access_log /var/squid/log/access.log     
title "Squid User Access Reports - SARG"     
graphs yes   
graph_days_bytes_bar_color orange     
#LOCATION of WEB PAGES  
output_dir /usr/local/www/squid-reports   
#Display usernames or IP  
resolve_ip no   
#Sort Order 
topuser_sort_field BYTES reverse    
user_sort_field BYTES reverse

  Run SARG for the first time.  This may take a bit to run depending on your system and how long you have log files for.

 
cd /usr/local/bin     
chmod +x sarg

  Configure the system to run the reports once a day using CRON.

#crontab -e    
01 * * * *   root /usr/local/bin/sarg

To view the reports you will need to go to a specific url http://<your pfsense box>/snort-reports/
Here are some example reports: (ip's blocked to protect the innocent )
LANDING PAGE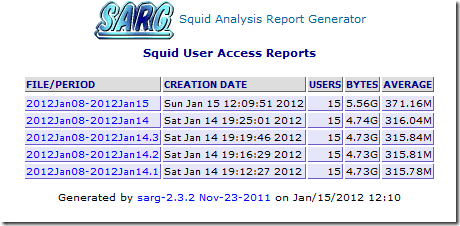 DAILY REPORT
INDIVIDUAL USERID (IP)
GRAPH OF INDIVIDUAL
I prefer SARG because of the graphs and the look and fee.  Let me know if you have any preference on reporting systems.